Leave Halifax on the A629 Keighley Road. Go through three sets of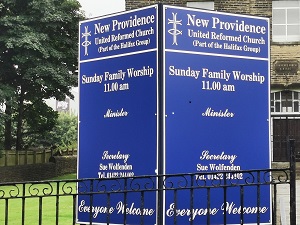 traffic lights ignoring pelican crossings. We are on the left just above the large petrol station and opposite the new Moorside school and Beechwood Medical Centre. We are set back from the road with long lawns and a large blue signboard.
Unfortunately, the council have installed a zebra crossing outside our gate ignoring our concerns about parking for weddings, funerals and infirm people; parking is on the main road a short distance both up and down from the church. We have a car park at the rear of the church so at the third set of traffic lights, turn left into Nursery Lane, straight up the road to the mini roundabout, turn right into Cousin Lane, on to next mini roundabout then right again into Club Lane. We are near the bottom of the road (this section is one way which is why you can't enter from Keighley Road) and you will see our small sign at the entrance to the car park.